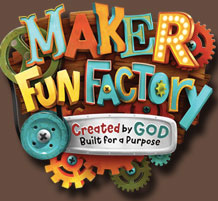 Get in gear with us for an inventive and exciting adventure July 17-21 at VBS! Our theme this year is Maker Fun Factory; kids will learn what it means that God so lovingly created us and will always be for us. Registration opens March 5 at aidanschurch.org!
For more information, contact Taylor Durr.
Our t-shirt design contest opens March 5 with the deadline April 2. We will announce the winner on April 9 during the announcements.