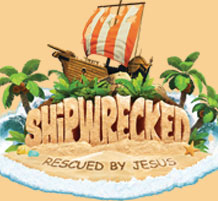 Join us July 9-13th for an adventurous Vacation Bible School! Our theme this year is Shipwrecked: Rescued by Jesus. Kids will learn what it means that Jesus loves us and carries us through life's storms. We welcome participants 4 years (and potty trained) – entering 5th grade.
Each day will be from 9 a.m.-12 p.m. and a peanut free environment. Early registration of $20.00 is March 1 – April 22. Regular registration of $30.00 is April 23 – June 16. See you there!
For more information, contact Taylor Durr at taylor@aidanschurch.org.
Look out for T-Shirt competition details in future announcements.