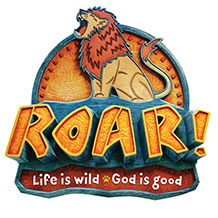 Take an adventure with us for an exciting and adventurous week, July 8-12 at VBS! Early registration is March 3rd, costing $20.00. Late registration is June 16, costing $30.00. Our theme this year is
ROAR: Life is wild, God is good.
Registration for participants is online at
https://www.eventbrite.com/e/vacation-bible-school-participant-registration-tickets-56204564365
Join us as a volunteer by registering online at
https://www.eventbrite.com/e/volunteer-registration-vacation-bible-school-tickets-57709072389
Triumph Sports
This year we are adding something very special to our Vacation Bible School! From 12- 4 p.m. we
will have Triumph Sports come in and run a Bible based sports camp. The participants will play fun games
like dodgeball, kickball, capture the flag, and games revolving around basketball, soccer, and more! The
cost in addition to VBS is $105.00 if registered before June 1, and $115.00 if registered after June 1.
Registration for Triumph Sports is also online NOW at
https://campscui.active.com/orgs/TriumphSports?orglink=camps-registration
For more information, contact Taylor Durr at taylor@aidanschurch.org.