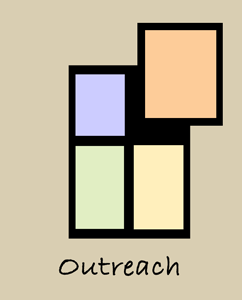 At St. Aidan's we make an effort not only to express our four core values but to firmly root our decisions in them.
In each of these pages we'll touch on each value, but this is just a beginning.
We encourage you to explore what each value means to you and how all of them can help you become a more whole person.
Jesus constantly calls his followers out into the world around them. He was consistently getting himself into trouble with religious leaders for hanging out with the lonely, the losers and the rejects. To follow Christ, therefore, one must be present in the world. We do this through service in our community, we do this through inviting people to church, we do this by being good friends, coworkers and civic leaders.
Questions to consider:
In what ways do you serve your community? Individually? As a family?
What gifts do you have that could bless your community?
Why is it important to reach out to others?