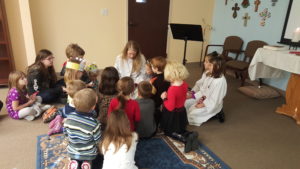 We value children as a precious gift from God that we as a church, partnered with children and their families, work together to model God's love so that we may grow in faith and respond to God's love with open hearts and minds.
They are not only our future, but also our present. The children of Saint Aidan's are from 4 years old to 3rd grade. We provide opportunities for the foundation of their faith lives to be built, and an age appropriate worship service for them to take part in. Older children have opportunities in our Youth activities.
The children are part of a community at Saint Aidan's filled with role models and other children to help each other along the way.
Sunday School
Children and youth have Sunday School at 9:15 a.m. from September to May.
If you have any questions about our children's ministry, please contact Taylor.